The WERA Aotearoa Charitable Trust Team
TOKOROA BRANCH
The following are the team members of the Tokoroa team;
Pat Tavai – Project Manager Tiaki Tangata (Tokoroa)
Pat has extensive experience working with offenders and reintegrating them back into the community. This ranges from delivery of violence prevention programmes, community probation services and participation on the NZ parole board.
Pat has also developed and delivered youth services on a local and national level aimed at helping youth make positive and healthy life decisions for themselves and their whānau.
Pat has extensive communication and relationship management skills which he has employed for all those he comes into contact with, from local whānau and communicaties to government and corporate agencies.
To find out more please call us on 0800 GOWERA and ask to speak to Patrick or email: patrick@wact.org.nz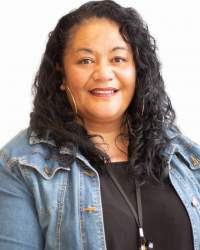 Vanessa Letoa-Palea grew up in the Tokoroa community and has a passion for youth including the youth of the South Waikato. She is married and has 5 children and 1 grandchild who keeps her grounded in the things that matter the most, such as family, community and integrity. She brings in her role leadership, knowledge, skills and in depth experience and engagement with youth that is highly valued in the Tokoroa community.
The Youth Service Team continues to work hard at achieving milestones required to meet the needs of our youth. As we head into another year of opportunities, we stay closely connected to current and forming new relationships with our community providers at all levels, to ensure partnerships are solid, strong and well connected as we aim to work towards thriving our youth, whanau and community.
All staff of our Youth Services staff receives professional development in the health, social and wellbeing of youth to ensure our young people receive the quality service they deserve. Areas we cover are Tokoroa, Putaruru, Tirau and Mangakino.
To find out more please call us on 0800 GOWERA or email Vanessa at vanessa@wact.org.nz
Anthony is Samoan and has grown up in the Tokoroa Community. His background is in communications which he has contributed by writing successful stories on our Youth and community events for our local newspaper and facebook page. He completed the Youth Worker Certificate Level 3 and is demonstrating the Youth Development Strategy Aotearoa as a tool to work with our youth people enrolled on our service in the South Waikato area. Anthony is in the Youth Mentor role supporting both 16 to 17 year old youth who need supporting enrolment or staying enrolled in fulltime education.
To find out more about how Anthony can support you, FREEPHONE us on 0800 GOWERA or email Anthony on anthony@wact.org.nz
Patoa Tavai - Youth Mentor (Tokoroa)
Patoa Tavai comes into the service with experience working in youth mental health and activity based programmes. Patoa is of Cook Islands descent which he says gives him a natural ear for music, which he pursues with a passion. He is of the view that this passion lends itself nicely to the areas of youth mentoring and youth development, because "music speaks to youth in a way that mere talk doesn't". A former head boy of Tokoroa High School, Patoa is keen to forge strong relationships with his community, in order that the wellness and wellbeing of Youth is promoted as a priority. He completed the Youth Work Certificate Level 3 and Level 4. Patoa is in the Youth Mentor role supporting both 16 to 17 year old youth who need supporting enrolment or staying enrolled in fulltime education.
To find out more about how Patoa can support you, FREEPHONE us on 0800 GOWERA or email Patoa on patoa@wact.org.nz
Ani Rikona - Case Manager / Youth Services Support (Tokoroa)
Ani is of Cook Island descent, born and bred in Tokoroa and continues to live in Tokoroa with her husband Tony and their four boys. Ani has 6 years experience in adult learning as well as some experience in delivering a Youth Guarantee programme. Ani has in her previous roles worked as an employment consultant supporting people into employment. Ani has a passion to see people pursuing and achieving their goals and dreams and she is passionate about creating and maintaining a thriving and sustainable South Waikato District. Ani is a YP/YPP Case Manager and supports our young people from the ages of 16 years to 17 years to work towards achieving their financial, educational and personal goals.
If you have any queries or if you want to know if you qualify for financial support through our Youth Service, FREEPHONE us on 0800 GOWERA or email Ani on ani@wact.org.nz
Taylah Paul-Kaponga - Case Manager / Youth Mentor
I was born in Kirikiriroa and I have lived in Tokoroa for 8 years now. My partner, Justus and I have two children, Hinekapu and Jaye. I am 23 years of age and my story is one of hope and transformation. I was Deputy Head Girl of Tokoroa High School and during that time I fell pregnant with our beautiful daughter Hinekapu. It was a hard time for me and I felt the pressure of being stigmatised and the feeling of shame. I had to be supported by a benefit and meet all my YPP obligations. Five years later and I am a Case Manager for young people who are in receipt of a benefit.
My role as a Case Manager/NEET Mentor is delivered with aroha and understanding. I work in partnership with the young person reaffirming and valuing them as a person and letting them know that I believe in them. My role is not to change the young person it is their choice, my role is to help the young person to recognize their potential and to give them direction and hope to navigate this part of their life. I am currently enrolled to complete Certificate of Youth Level 3 to enhance my knowledge and skills in my role and implement the Youth Development Strategy Aotearoa in my line of work.
I love the diversity of my role with WERA Youth Services and I have gained my mentoring skills and experiences through 4 years working as a YMCA Mentor and also working as a Teacher Aid for a local secondary school.
To find out more please call us on 0800 GOWERA or email Taylah at taylah@wact.org.nz
Tokora Image Gallery
Get a sneak peak inside the Tokoroa WACT office. If you'd like a real tour, come in and see us!
Look up the address.